Guest Room Tweakin'
Tweakin' reminded me of tweetle deeting which got this song stuck in my head all day:
Since we painted the office orange and totally transformed the whole feel of that room I've been itching to update its neighbor, the guest room, and transform it to its light, happy self. Especially with such freakishly cheerful hall-mates.
Here's its previous state. I do love that comforter but even with the new light fixture it just felt dark and desaturated. And the curtains… they were great interim items at 7 bucks a pop.
Of course, here it is in it's REALLY previous state.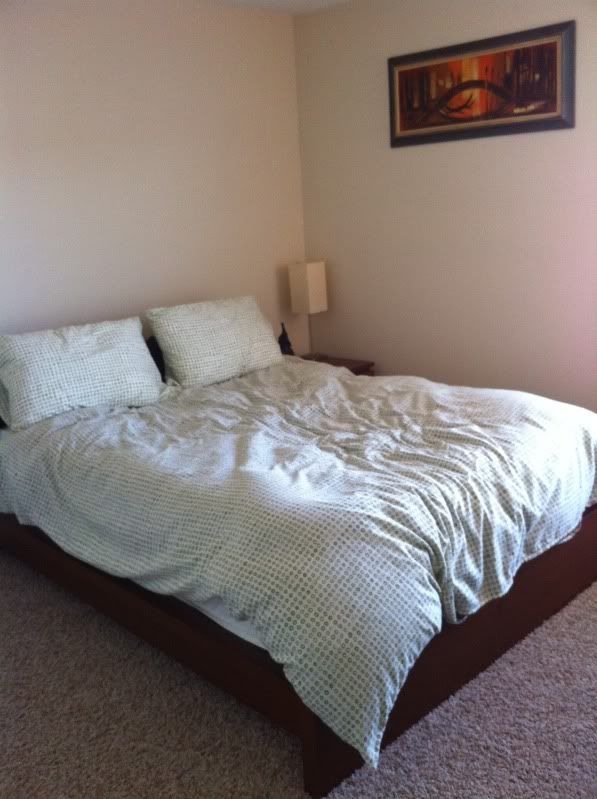 Now, cue the most amazing fabric in the world, found from fabric.com. Funny story (not really) – I found this fabric by searching Ikat and I instantly knew I had to have it. I do consult the hubs on most decor purchases – although I've built up some cred by now and will often get the looks fine to me – and I totally trust you because you've made a ton of great decisions already. Score. It took me a few days to finally remember to ask Ryan and I was met with not only that response, but when I refreshed my fabric.com cart – BAM – the fabric went from sale to clearance. $3.50 a yard?! WHAT UP. Since that left me with about 15 bucks left to get to the $35 free shipping promo I also threw in some white fabric for the office (more on that later).
Here's a lovely secret about fabric.com – I slid by the $35 mark with $35.89 in my cart. Sweet. Than I applied a coupon – type in the word SECOND – and it not only took 5 bucks off but still applied the free shipping. DOUBLE SWEET.
With this fun funky fabric (alliteration alert) I had to nix the comforter and swap it out for a simple white Ikea down comforter.
It really brightens up the space and looks sooo soft and fluffy – in part due to the 50 minutes it spent in the dryer getting to know two tennis balls.
I also took a deep breath and began tweaking the frame collage. We loved everything we chose to put into it and find ourselves still standing around gazing at all the fun memories — like our old concert tickets — but there was one major problems that was getting under my skin — we got a bit overexcited and squeezed all those little frames together which made for a weird everything-looks-like-its-touching thing.
After approx. twenty billion MORE holes in the wall I got this. Subtle but much, much better.
Oh guest room, you are so happy!